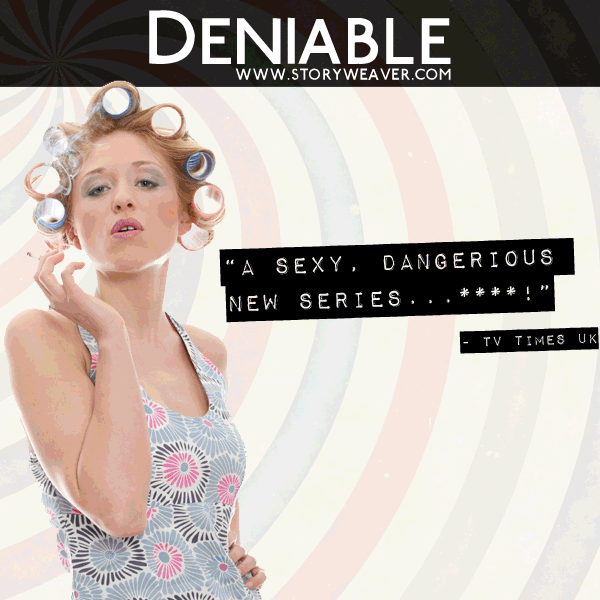 Deniable is a deeply personal, funny, at times darkly satirical "story game" designed for small gaming groups.
It tips it's hat to those wonderfully wicked British TV espionage series such as Spy, The Wrong Mans, and Spooks.
Each game of Deniable involves everyone collaborating to create episodes of satirical, darkly humorous British-style TV shows.
The game works best with three to four players, plus a Game Master (who we refer to as The Director).
It is about decidedly average English people coerced into participating in 'operations of national importance' by a shadowy espionage Organisation .
The object of the game is to tell interesting stories about people put in a situation for which they are not at all prepared.
And then watch them descend in chaos, often with hilarious results.
Of prime importance in Deniable is the concept of playing to find out what happens.

The Director does not plan ahead: each story unfolds in the moment.
If you are looking for a game that revels in the lives of little people caught up in big events, of small drama made into epics, then this is the game for you.
We guarantee you'll be laughing until you cry in no time at all.
Don't believe us? (We wouldn't!)
So check out what "Let's Level Up" says about Deniable.
Deniable: A wonderfully wicked 'story game'
Deniable Treatments available on DTRPG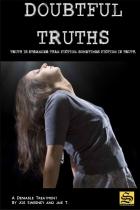 Doubtful Truths
Hop into the mystery machine and uncover DOUBTFUL TRUTHS in this true conspiracy Deniable Treatment.
Let's go and check it out, they said. It'll be fun, they said...
But now, you've seen things. Things you never should've seen in the first place. Things that caused you to have more questions than answers. And with each question, you fall deeper and deeper into the rabbit hole.
In the tradition of Twin Peaks and X-Files, Doubtful Truths take you and the gang into the heart of conspiracy county as you try to uncover the truth about the suspicious activities of the past few days. The authorities don't seem to be taking it seriously and the townsfolk are conveniently ignoring the weird events.
Why isn't anyone bothered? Do people here know something you don't?
When you uncover the truth, will anyone believe you?
Please note:
to play the Doubtful Truths you will need the Deniable RPG.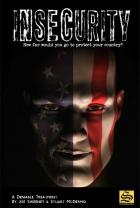 InSecurity
A group of patriot industrialists and leaders of commerce decide enough is enough and act on behalf of their country against "dissidents." Average Americans are unwittingly recruited into the fight.
This treatment extends your Deniable fun. Inspired by the TV shows Homeland and The Americans, your heroes take matters in their own hands as they wage war on terror.
Please note:

to play the Doubtful Truths you will need the Deniable RPG.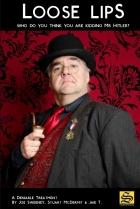 Loose Lips
England 1939. A group of retirees have officially tasked themselves with uncovering villainous German intelligence efforts in the Dover Area.
It's cold. Rain's on the way. Their joints hurt. But, it's wartime. And they think they know who the enemy is... Officially, they are joining the Local Defense Volunteers. Unofficially, they plan to get one over rival volunteers from that other cricket club in Folkestone...
This treatment extends your Deniable fun. Inspired by the classic British TV shows Dad's Army and Allo Allo, your hapless heroes find themselves caught up in nefarious Nazi plots… and British Bureaucracy!
Please note:

to play the Doubtful Truths you will need the Deniable RPG.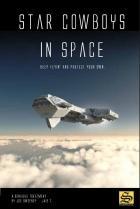 StarCowboys in Space
Yeehaa! The Wild West goes to space in this hilarious Deniable Treatment.
A hodgepodge of rock and rollin' outcasts are thrown together for an adventure of a lifetime. StarCowboys in Space is an action packed treatment reminiscent of Firefly and Farscape, where our SpaceCowboys jump from one series of unfortunate events to the next.
With a bunch of misfit toys packed together in an enclosed space made of moving parts and rocket fuel...what could possibly go wrong?
Please note:

to play the Doubtful Truths you will need the Deniable RPG.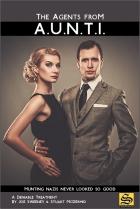 The Agents from A.U.N.T.I.
When A.U.N.T.I. - the Autonomous United Nations Tactical Intelligence force - was established after WW2 it's mission was to track down and eliminate any potential resurgence the Nazi threat. Each nation lent their best and brightest spies to the task.
That was two decades ago. Now, with the cold war in full swing, the Nazi menace all but forgotten in the fight between ideologies. AUNTI has become a dumping ground for failures and embarrassments.
Under-funded, under equipped, under-supervised, on probation, A.U.N.T.I. is seen as little more than somewhere to put people that governments would rather forget about. Perhaps they can spy on each other? Just as long as they stay out of trouble.
BUT… the old threats are real! Even if the powers that be don't realise it, they still need AUNTI. For around the globe, the dark forces of Nachzehrer - the Reich Resurrected - are rising. And this time, they mean business!
Please note:

to play the Doubtful Truths you will need the Deniable RPG.