High-Space is a galaxy-spanning, high-tech space opera involving playable alien races and revolutionary spaceship design and combat.
This new High-Space game revolves around a handful of genetic wildcards...the castaways that are tasked with doing the dirty jobs in a gene-engineered, Utopian future surrounded on all sides by alien threats.
As the Wildcard, you are the main actor in this cinematic galactic battle.

Y
ou can be a reluctant super-tech hero. Or even a villain.
You want to explore. You want to fight. You crave adventure.

You and your fellow Wildcards will seek out dangerous battles and be the masters of your own fate...and the fate of trillions.

In this 245 page of core rules book, you will discover the major threats to PanDominion- the future Utopia - both internal and alien.
You will find new specific skills, edges and hindrances, high tech gear and full starship design and combat systems.

The best part? It meshes seamlessly with the Savage World core rules.

So what are you waiting for? Strap on your jet boots, grab your favourite las-gun and take on the dirtiest jobs in the galaxy - just for kicks. Who knows, you may even save the PanDominion while you're at it!
High-Space: 2nd Edition Core Rule Book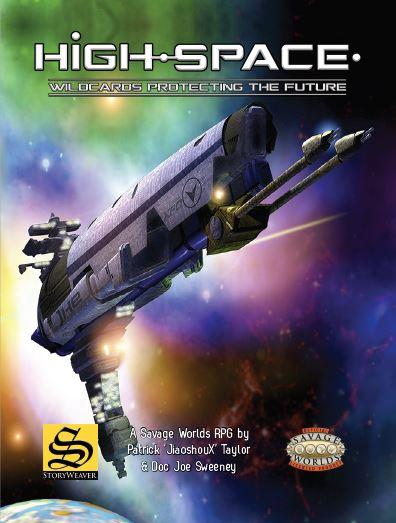 High-Space: 2nd Edition
The follow up to the HUGELY POPULAR High-Space first edition!
In this thrilling new RPG, YOU play
the renegade and reluctant hero fighting unimaginable threats
to an ultra-high tech utopian world...
just for kicks.
What you get in this newly expanded High-Space: Wildcards Protecting the Future RPG game…
Breathtaking and expanded setting from the Lantern Nebula to three arms of the galaxy
Over a dozen exciting new playable alien species - and the ability to create thousands more!
Newly updated core rulebook
All-new cinematic starship battles
Over 240 pages of heart-stopping sci fi action
Detailed starship design - including all-new alien tech and combat systems
New range of exotic characters
Super high-tech new gears and gadgets
Newly overhauled popular starship design rules
Plenty of new source materials to help you create exciting adventures
All the information and tools you need to run a galaxy-spanning campaign
Detailed rules on character creation based on Savage World but unique to High-Space
Templates to easily create any unique characters
Visceral, dangerous and exciting new adventures
High-Space: 2nd edition Adventures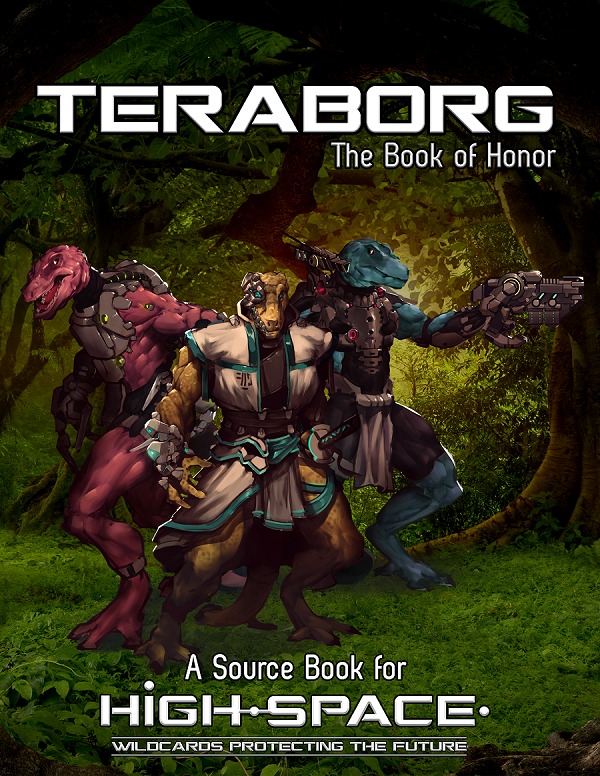 Teraborg: The Book of Honor
"Who wouldn't want to be a hyper-advanced,
cybernetically-enhanced dinosaur samurai
from the far future?"
Teraborg: The Book of Honor is the first expansion for High-Space, the popular, far-future setting for Savage Worlds.
Voted the #1 most-wanted expansion during the High-Space Kickstarter, The Book of Honor is gives you an insider's view of the ancient civilisation of the PanDo'smost technically advanced species.
Explore the worlds of the Iron Clouds, and discover the intriguing secrets of the TeraborgEmpire, including:
The five Teraborg Clans, including warrior Militara and science Artifi clans
The rich culture, language, rights and observances of the Teraborg - everything needed to get into the groove playing a

Teraborg

The inner workings of The Imperial Nest court
Descriptions and maps of the hidden worlds within the Carina Nebula
The Book of Honor includes new character edges, starship designs, tech, plot hooks and mini adventures!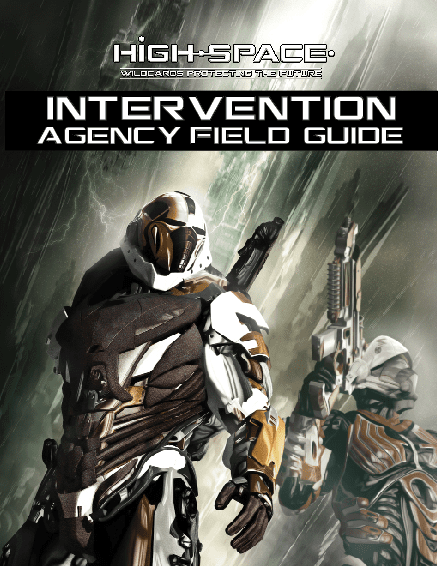 Intervention Agency Handbook
Far-future Black Ops
with killer-tech...
You're the PanDominion's greatest weapon.
Join the elite hyper-tech agents of the galaxy's most secretive spy force: Intervention.
This new supplement for High-Space - the fast, furious and fun far future setting for Savage Worlds - launches you into the shadowy world of sci-fi black ops.
Packed with top secret info about the Agency's remit across the PanDominion, you'll find exciting new archetypes to play, including:
Blenders: these glanding-powered doppelgangers are masters of infiltration.
Surveillans: injecting an entire culture's media to track down targets and change histories.
Trouble Shooters: calling them assassins underestimates their skills
Remoteorator: gamers of the future make it real with drone swarms.
Space-Rogues: these wild wildcards should be in custody, but are put to better use (only once they've survived long enough).
Synthforcers: these killer machines with remote brains can look like you and me... until it's too late.
Cerebellum: no mortal hacker, but computational geniuses with hardwired genetically-modified brains.
Plus there's new edges, new gear, starship templates and even four complete starship designs!
High-Space for your gaming table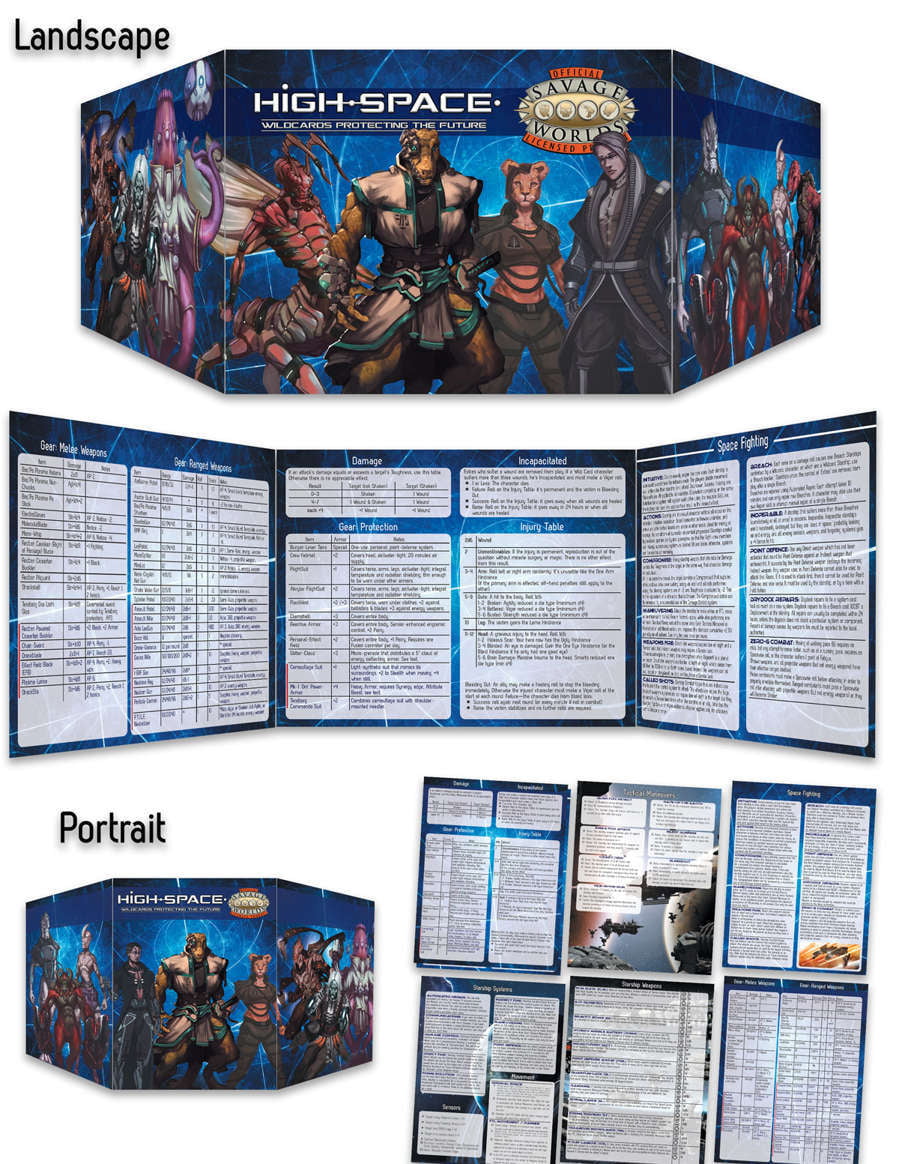 High-Space 2nd Edition Game Master Screen Inserts
HIDE THE SECRET STUFF... FIND THE IMPORTANT STUFF FAST!

With beautiful inserts to fit both Pinnacle's landscape GM screens and a range of other portrait GM screens, this set of quick sheets gives you everything you need to speed up your games.
Inserts for:
Savage Worlds combat and actions
High-Space weapons and protection
Starship movement and systems rules
Starship weapons and tactics
Space Fighting
Everything you need to make sure your evil genius ideas remain hidden, and the most frequently used information is always on hand.
You can also print out the sheets as player handouts.
High-Space: 1st Edition Adventures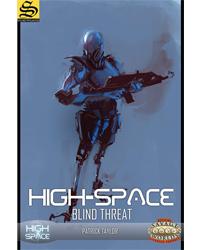 Blind Threat
"Blind Threat may be free, but it packs some punch! At 30+ pages of notes, and a massive 24-page printable battlemap, you get everything a gaming group could want for an evening of hyper-sonic action. The adventure is aimed at being a demo of the new rules introduced in High-Space, a sci-fi setting for Savage Worlds. You get to trial social combat, a ground assault, hyper-sonic chases , and, of course, starship battles! But it's all tied together neatly in a story that kicks off some great ideas."

Blind Threat is the first adventure of High-Space, the best-selling Savage Worlds sci-fi setting.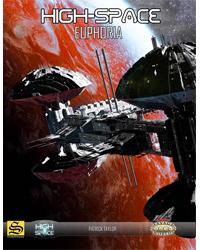 Euphoria
Euphoria is a Game-in-a-Can scenario presented by Storyweaver Productions, and is an excellent way to start gaming in the setting of The Lantern, using the High-Space rules. This adventure is centered around the notorious Altitude Bar on Euphoria, the space-station which orbits above The Remnant - the unstable, broken planet once home to ancient civilizations and now the stalking ground of treasure seekers and artifact hunters alike! This module details the Altitude Bar and other sections of Euphoria, and provides NPC characters and starship descriptions to help kick-start your campaign.
The adventure is not linear in the way it progresses. Rather, it is a 'sandbox' in which your heroes will adventure. But there is a time constraint... inevitably, the Remnant will undergo a 'shift' that unearths a sizeable portion of new land, drawing scavengers and relic hunters like bees to honey!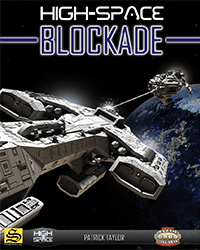 Blockade
This Adventure is a a quick diversion for your heroes… An ordinary trip turns into an 'interesting opportunity' when an Armada warship interdicts an Astatine processor owned by a powerful Commercial. Why are the Armada suddenly enforcing the obscure by-laws of the U.R.C.? Is this one captain's personal agenda, or part of a larger power play? With several Commercials now involved or impacted, it's hard to see the line that separates the players from those being played. And when the lights go out, and the air starts to run out, who will think of all the lives suddenly in danger? Blockade can be played as part of the Anti-Pattern campaign for High-Space, or as a self-contained adventure for a group of timely heroes.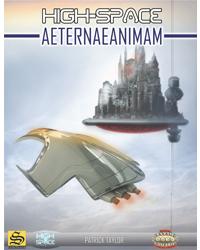 Aeternaeánimam
"Politics. Money. Religion. Always an explosive mix. Throw in a floating palace in the clouds, robots and Templars, and you've got the perfect adventure for intrigue and outright conflict!"
Having successfully delved '
Into The Remnant
' and uncovered what is only the second Nazmec Tablet in existence, the intrepid heroes now want their payoff!
Their best option is to reach the Tor system and negotiate the labyrinthine and deadly practices of the trade in Nazmec artefacts, under the sanctuary of the Council of Churches.
If the heroes thought that millennia-old amphibious monsters were bad, they will be in for a shock when they face off against the galaxy's most ruthless wheelers and dealers!
Anyone bidding for a second Nazmec Tablet will want to win, and agents who negotiate can utilise 'unusual' methods and tactics. Yes, the bidding will be steep... and it'll not always involve money.
Shady deals will be done...
Ancient secrets will be revealed...
Friends will be betrayed...
Fortunes and lives will be put on the line...
Welcome to the Aeternaeánimam.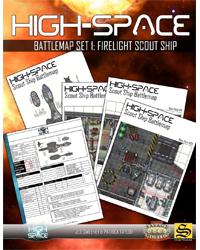 Battlemap: Firelight Scout Ship
Beautify designed and mapped, this battlemap kit is great value for any sci-fi game. You get 45 pages of 8x8" maps for your minis, covering a 380ft long scout ship, a 75ft long smuggling vessel, and three shuttles and fighters, plus supplemental maps and interactive starship character sheets. 50+ pages of sci-fi goodness for just $1. Amazing!"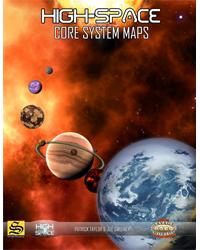 Core System Maps
"Entering the Typhon-1 now captain. Scans complete. The Sturm consortium facility in orbit of Gronda is hailing... they are warning us off. Scans also detect St. Cloud frigates moving in from the third moon Typon. Your instructions Sir? "

Get ready to explore The Lantern Nebula is glorious style. The official High-Space Core System Map bundle gives you 12 stunning full color maps for your games.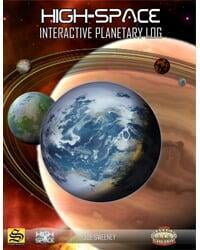 Interactive Planetary Log
The High-Space Interactive Planetary Log gives you unlimited freedom to create the perfect planet. This editable, multi-layered PDF allows you to combine from hundreds of planets and moon, backgrounds and even special sci-fi computer display effects to produce exactly what you are looking for, in just a few mouse clicks! You can print or save your output in any format supported by your PDF reader, and use the stunning results in your campaigns.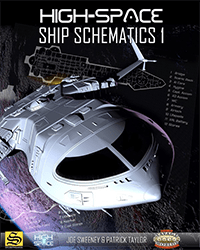 Ship Schematics 1
"If you are in the market for a good ship, then look no further than Barnard's Guide. Packed with details of every ship manufactured in the Pan-Dominian, Barnard's gives you the information you need to make the Right Choice..."

High-Space Starship Scematics 1 is the first in is a series packs of detailed ship specifications and schematics that will make any space-fairing adventure more interesting. This pack contains 7 detailed, printable maps of the starships found in High-Space Starship Figure Flats pack. Each starship's abilities, edges and quirks are fully detailed. You can use the ship details as a starting point to customise your own ships, by simply swapping in and out edges, hinderances and skills, or even build upon the ships by given them extras for experience.

Figure flats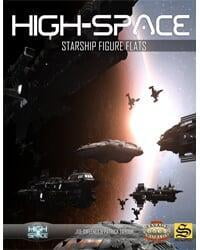 Starship Figure Flats
"Independent, Wasp-class warship designation 12-62B; stand down. You are outgunned and outnumbered."
"To hell with that... launch the Banchies!"
The High-Space Figure Flats package provides a wide range of figure flats for your starship battles. It includes a healthy selection of ships from the upcoming "Lantern" source book, ranging from one-man shuttles and attack fighters to super-massive carriers... and everything in between. With 66 individual ship designs formatted for quick printing, you will never want for starship markers again.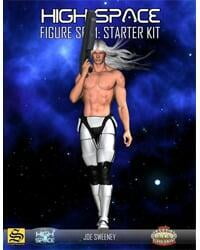 Figure Set 1: Starter Kit
The High-Space paper figure Starter Kit give you 36 human sci-fi minis for use with your High-Space games. The figures include a mix of general public, security, military, technical folks, androids and even a couple of cyber-ninjas!
All figures are available in both a 'tri-fold' and 'A-frame' folds, giving you the opportunity to mix and match the set with other vendors' paper figures: choose the style of figure that best fits your gaming table setup.
Give your gaming table some character!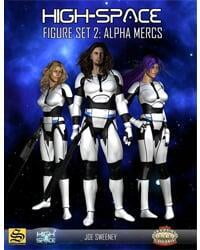 Figure Set 2: Alpha Mercs
The High-Space Alpha Mercs set gives you 36 sci-fi minis for use with your High-Space games. The figures are mostly military and combat specialists - namely the "Alpha Mercs" - but we've thrown in a few extras as well. In additon, this pack also includes a bonus set of 24 mixed figures, including a jump-pack squad, and some aliens. That's a total of 60 minis!
All figures are available in both a 'tri-fold' and 'A-frame' folds, giving you the opportunity to mix and match the set with other vendors' paper figures: choose the style of figure that best fits your gaming table setup.